New Traditions at PMG
The Backstory
Years ago, my sister started a tradition for my nieces and nephews, as well as my kids, where she sent a box of goodies and a list of activities for each child to do every day in December. Besides being super fun and allowing me to relax my own creative mind during an already chaotic time of the year, the greatest part of this gift was that each kid got to do this one activity every day of the month, knowing that all the cousins were doing it together, no matter how far apart our families were physically.
Today, my sister has her own seven kids to care for, but she graciously gave me permission to keep the traditions alive in my own family, and we continue to do fun activities throughout the month of December, inspired by the traditions that my sister helped us create.
The December Daily Fun Calendar
When I decided I wanted to do something fun for PMG employees around the holidays, I quickly turned to my own family traditions and created what became the December Daily Fun Calendar. Each day, employees were assigned a different activity, and if they performed that activity, a specific amount of money would be donated, evenly split between three local charities.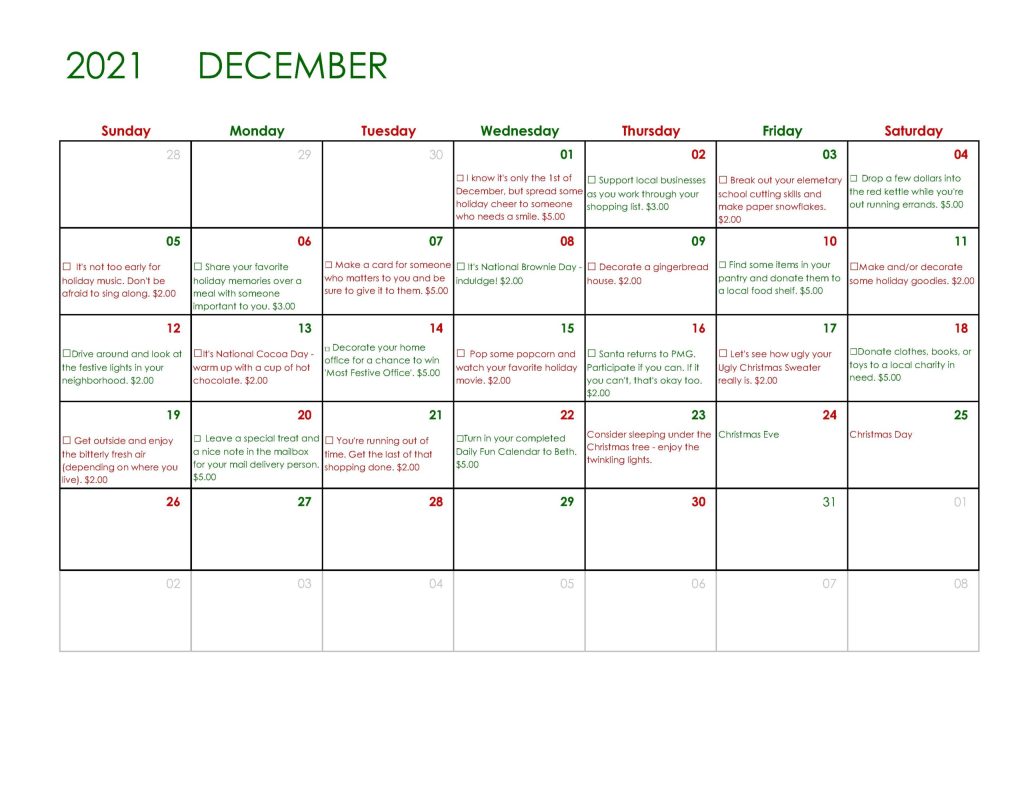 For the month of December, our employees
cut paper snowflakes
wore ugly sweaters
decorated their home office
dropped a few bucks into a red kettle
drank hot chocolate
decorated holiday goodies
donated used items or food to local charities
left a special note of gratitude in their mailbox for their mail delivery person
The feedback from our employees who participated in the December Daily Fun Calendar was inspiring and the pictures were even more fun. This simple calendar created new traditions amongst families, gave those who were grieving something positive to focus on each day of the month – even for just a few minutes –  and it brought families and friends together to share in the spirit of the season.
Along with all of that, everyone's participation raised $798 for local charities. While we initially intended to split the $798 three ways, PMG leadership quickly approved a donation of $798 to each of the three charities, allowing us to:
Provide diapers to families struggling to purchase this essential item for their young families through the Diaper Bank of Minnesota.
Offer companionship between a local pet rescue and assisted living communities, providing aging adults and animals comfort and socialization through Secondhand Hope.
Help bake bright futures by teaching life, leadership, and employment skills to teens of color through on-the-job and classroom experience in a nonprofit bakery called the Cookie Cart.
While 2021 was another crazy year (courtesy of a worldwide pandemic) we sought out reasons to share joy and love in 2021 and PMG looks forward to continuing that tradition into the New Year.