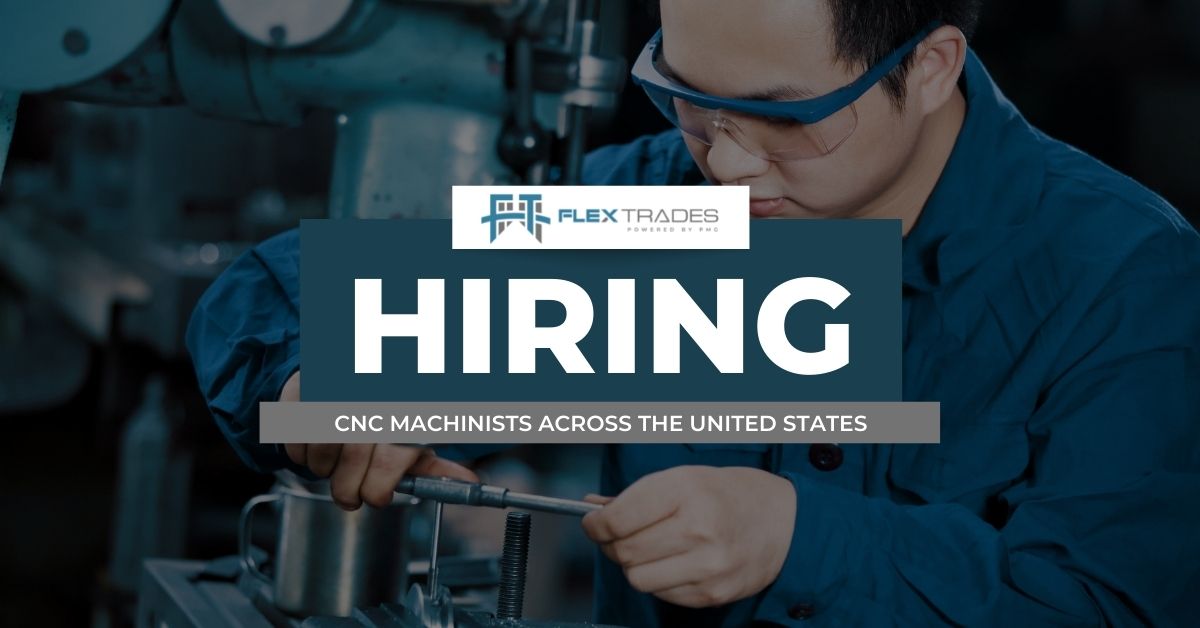 FlexTrades is hiring CNC Machinists (Traveling) across the United States.
Position Overview:
Are you looking for a contract position that will offer exceptional pay, flexibility, and the opportunity to work with some of the nation's most prominent manufacturing organizations? Look no further!
As a CNC Machinist, you will work for clients who manufacture a variety of goods, products, and components for food & beverage, personal hygiene, packaging, medical, aviation, and automotive industries, among many others.
Job Requirements & Qualifications:
Must have CNC Machining and manual machining experience.
Must be comfortable operating horizontal lathes, up to 4-axis
Controller knowledge and/or experience is a requirement.
Machinist will be expected to set-up and operate machinery.
Materials: Steel forging, ductile iron castings
Hold tolerances: .001″ +/-
GD&T symbol familiarity
Experience with measurement equipment, i.e. gauges, calipers, etc.
Experience with basic hand tools.
Basic computer skills and ability to learn and use multiple computer applications (including email, internet, and other job-specific applications).
Basic math skills, including adding and subtracting decimals
Ability to read, interpret and follow blueprints.
High School Diploma or equivalent
Must be able to meet drug test requirements and successfully complete phone screening
Pay & Benefits:
Pay: Up to $36/hour
Guaranteed Overtime each week paid at time and a half
Access to a full suite of benefits
Paid travel expenses to and from job sites (Mileage Reimbursed at $0.625/mile)
Paid lodging (Single-Occupancy Hotel Room)
Per diem ($45/day)
Flexibility to take time off between assignments
Job Types: Full-time, Contract
Hiring Note:
We are currently experiencing a high number of responses for our job openings. We appreciate your patience, and someone will be in touch if your skillset matches the position.
About FlexTrades:
FlexTrades is the nation's premier industrial contracting company, with a reputation for integrity and reliability built over the course of our 40-year history. We currently have great assignments for Quality Inspectors with some of the leaders in the manufacturing industry.
Our dedicated recruiters will provide you with personal, hands-on assistance in matching you with just the right jobs and companies to fit your needs. FlexTrades operators get to put their expertise to use at premier manufacturing facilities all over the country with all lodging paid for and coordinated by FlexTrades. We also offer excellent pay, with the potential for you to earn as much in 6-8 months as you would earn in a year elsewhere. This allows you the flexibility to take time off between assignments.
Let FlexTrades help to place you where your expertise is needed the most. Contact us today!
FlexTrades is an equal opportunity / affirmative action employer (Minorities/Females/Disability/Veterans) committed to a diverse workforce.